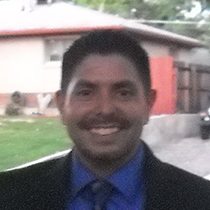 Associate Lender
Licensed in Colorado

Phone:
Email:
My name is Gene Marin, I am a Colorado native born in 1976. I was raised in East Denver where I attended a private Catholic elementary school called Annunciation. While attending Annunciation I was heavily involved in sports with my father as a coach. Being great at sports gave me the wonderful opportunity to attend a prestigious high school, J. K Mullen where I played Baseball and Basket Ball lettering in both sports. Upon graduating from J.K Mullen I attended the Community College of Denver where I received an Associate's Degree in Business. I began coaching for Annunciation at the age of 20 and had the pleasure of coaching my two older sons in both Basketball and Baseball winning 4 city Championships in Basketball. During this time I was also the Athletic Director for Annunciation. I am actively involved with the Catholic schools as I donate time to the schools by umpiring for soft ball, baseball and I also referee basketball with my father and eldest son.
I have been in the Banking industry for 5+ years and I have been with Key Bank for one and a half years. I started my career here as a Float Teller and was quickly promoted to a Lead Teller. I did that for 4 months when I was blessed with a wonderful opportunity to advance to a Personal Banker. I have grown to love and appreciate this position as it allows me to utilize my greatest strength with is my customer services skills. I enjoy working directly with individuals and families and helping them plan for the future whether that be by opening up checking or savings accounts or assisting a first time homebuyer with Key Bank's great 1st time homebuyer program which allows me to work with people who are looking to call Colorado home. Key Bank also offers refinancing on existing mortgages for the purpose of consolidating debit or simply doing home improvements. We also offer CD's, IRA's, HAS's and Student checking accounts.
I am a very down to earth person and very easy to talk to. I will listen to your needs to provide the best service possible. I am family oriented so I know how important planning for the future is. I have a great sense of humor and of course I love sports. I have three sons and two daughters. I have been married for 4 years and my family is the most important thing in my life. I enjoy spending time with my family whether it be attending sports activities that our children are a part of, going fishing or just having a quiet day at home. Allow me to become a part of your family by assisting you with your financial goals.